Events / Exhibitions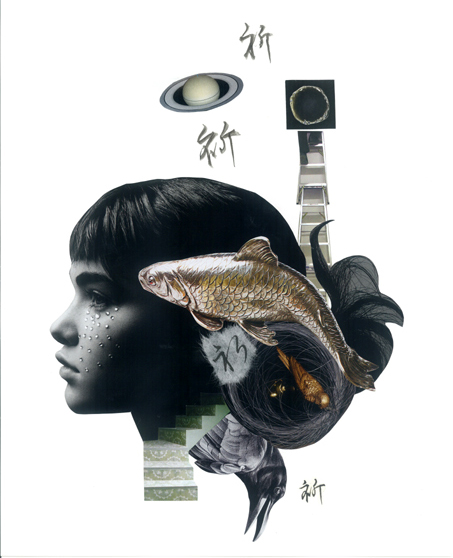 A Prayer for Our Planet, 2016.

Johanne Leveille & Michelle Casey
POETRY IN MOTION / POÉSIE EN MOUVEMENT
Tuesday, May 3, 2016 to
Saturday, July 2, 2016
Vernissage: Sunday, May 8, 2016, 2 - 4pm
Studio of Conceptual Design
698 Cooper Street, Ottawa, Ontario (Coooper/Percy Streets)
Telephone: (613) 567-6765
Information: joshodo14@gmail.com / mcasey@magma.ca
Salon Hours: Tues. 11:30 am - 7 pm; Wed-Fri 10 am - 7 pm & Sat 9 am - 4 pm
---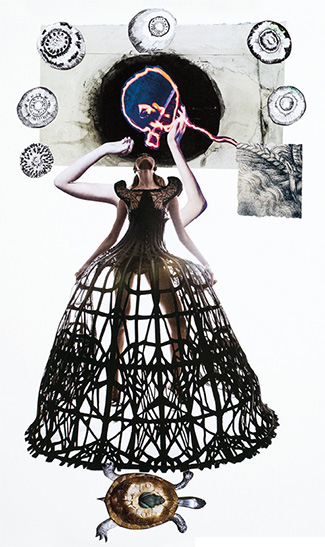 Michelle Casey & Krystyna Sadej
Ties that Bind: Collage & Fibre Art
April 20 - July 24, 2015
Reception: Friday, April 24, 2015, 6 - 8 pm
City of Ottawa Archives, Gallery 112
James Bartleman Centre, 100 Tallwood Dr. (Corner of Woodroffe)

Michelle Casey at the James Bartleman Centre with Liana Voia
Ties That Bind: Collage and Fibre Art
Gallery 112, City of Ottawa Archives
Podcast/Video - May 2015
---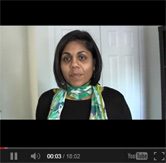 Interview: Michelle Casey with Liana Voia
Podcast / Video
On Contemplative, Expressive and Imaginative Arts in Ottawa
Tuesday, February 5, 2013
Blog Talk Radio:
hypnosisyoga.wordpress.com/2013/02/05/collage-your-world-with-michelle-casey/
---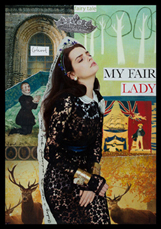 Canadian Hunger Foundation Silent Auction

A limited edition print: "Princess in the Making" (2011)
To be auctioned for The Canadian Hunger Foundation

Silent Auction: at the Gordon Harrison Gallery
February 7, 2013, 6pm to 9pm
495 Sussex Drive, Ottawa, ON
For more information see: www.chf.ca/idw
---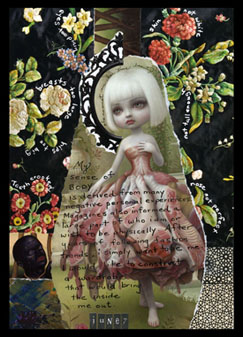 Inner Beauty
(Group Show)
Heartwood House Gallery
February 1 to 28, 2013
153 Chapel Street, Ottawa, Ontario, Canada
Opening: February 7, 2013, 5pm to 7pm

Monday to Thursday 4pm-6pm; Friday 3pm-5pm
http://heartwoodhouse.ca/content/view/50/74/
(613) 241-5937 (Maureen)

Information re "Inner Beauty": http://www.hopewell.ca/

("Inner Beauty" is in support of National Eating Disorders Awareness Week which runs
February 3 to 9, 2013)


---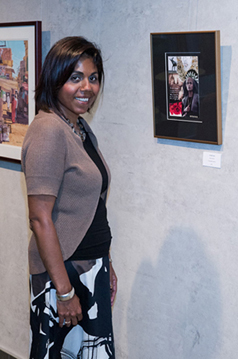 Canadian Gharana Festival: A Celebration of Indian Arts Group Art Exhibition

Shenkman Arts Centre
245 Centrum Boulevard, Ottawa (Orleans), Ontario
June 22-24, 2012
Opening: Friday June 22, 2012, 7pm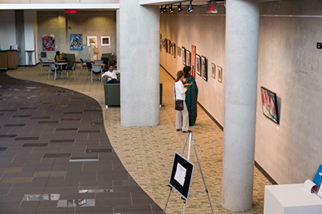 Photography by Peter Farris-Manning
---

Pieces of Me III: Fragments from an Artist's Life
A show of my latest journal pages

Atrium Gallery
Ben Franklin Centre, 101 Centrepointe Drive Ottawa, Ontario, Canada
October 28 to November 30, 2011
| | |
| --- | --- |
| | |
| | Photography by Carmin Davidson |
Opening: Tuesday, November 8, 2011, 6:00 - 8:00 pm.
http://www.ottawa.ca/rec_culture/arts/gallery_exhibit/atrium_en.html
Pieces of Me III: Fragments of an Artist's Life: featured as "Hot Art," Where Ottawa magazine. Nov. 2011
---
Recent Publications of My Work:

Tribute to Nick Bantock by Socrates is a fabulous compendium of postcard collages inspired by fans of Nick Bantock's Griffin and Sabine trilogy. For more information on the participating artists and additional information, see my blog.


The Right-Brain Business Plan: A Creative Visual Map for Success by Jennifer Lee is an excellent guide for budding creative entrepreneurs interested in venturing into the business world. It received the Start-up for Small Business Award (2012). I'm one of 22 featured artists/entrepreneurs in the book. For further information about Artizen Coaching and Jennifer Lee's Blog Spotlight, see my blog.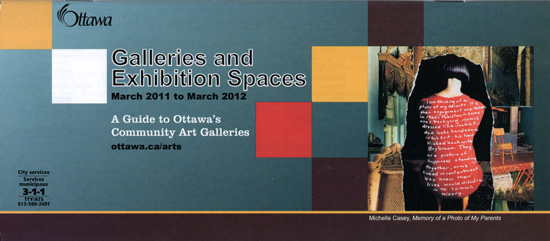 Ottawa Community Art Galleries: Galleries and Exhibition Spaces. The 2011-12 guide features Memory of a Photo of My Parents.